In This Section
Our Patients. Their Stories. Anne Kozikowski
Photography by

Mark Washburn

May 16th, 2016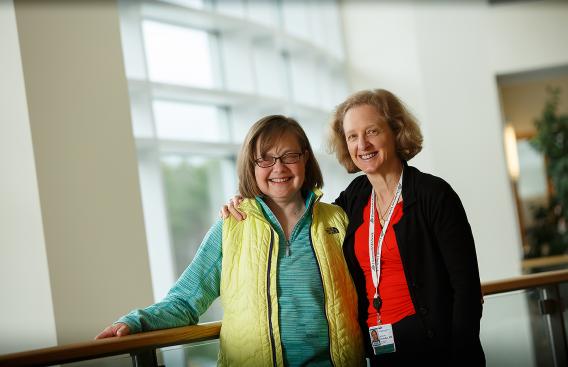 I still wake up with the goal of making every day as positive for as many people as I can.
Anne Kozikowski
To say my health is a challenge is an understatement. I was diagnosed with type 1 diabetes as a 10-year old. Thankfully, my dad saw the symptoms early. Because I needed specialized care, I became a patient at the Children's Hospital at Dartmouth-Hitchcock (CHaD) in 1980. During my teens and into my college years, my diabetes was hard to control. I was up to ten insulin shots a day at one point, testing my blood each hour of every day.
After graduating from college in 1992, I became the manager of a show horse barn and the Assistant Coach of the Colby-Sawyer College Equestrian Team. In 1995 I was promoted to the Director of Riding and Head Coach of the team. Not long after that in the fall of 1996, due to complications of diabetes, I very suddenly lost all of my vision which forced me to resign from the position at Colby-Sawyer that I loved. Dr. David Campbell [an ophthalmologist at D-H who has since retired] placed a shunt in my right eye to relieve the high pressure in it, but I continued to be totally blind for months. Some vision eventually, inexplicably and thankfully, returned in my left eye, and because of lots of preventative laser surgery performed by Dr. Rosalind Stevens [an ophthalmologist at D-H] in that eye, that bit of vision was saved. Currently, I am totally blind in my right eye but my sight in my left eye is 20/70 with corrective glasses. Having poor vision is challenging. For one thing, I can no longer drive and I am dependent on family and friends to take me where I need to go. I now volunteer my time and teach children to ride and care for horses at my home, which is my true passion.
 My diabetes symptoms and complications continued to be an ongoing issue. In 1998, I fell on the ice and broke my right leg in eight places, and had surgery which included a rod and multiple pins to repair my leg.
Shortly after my leg surgery, I received an insulin pump to help manage my diabetes. The pump did help to steady things out but not enough. Issues with gastropathy and neuropathy—both complications from being a type 1 diabetic since childhood—started to get worse. In 2002, Dr. [Michael] Chobanian, a nephrologist at D-H, referred me to a Boston hospital to receive a pancreas transplant, a procedure that at the time was not yet performed at D-H.  In fact, I was one of the first to receive a pancreas transplant on the East Coast.
By 2007, I had developed severe arthritis in the knee of the leg that I had broken. Dr. [Philip] Bernini in Orthopaedics removed the rod in my leg and replaced the knee joint. Thankfully, that joint is still functioning nicely.
Because of the toll diabetes had taken on my body, my kidneys began to fail. Family members volunteered to be tested as donors. My brother Mark was an excellent match and graciously donated one of his kidneys, which D-H surgeons transplanted in 2009. Both my kidney and pancreas transplants are continuing to do well.
It might seem like I have dealt with a lot, and I have. But I still wake up with the goal of making every day as positive for as many people as I can. I want to thank everyone at Dartmouth-Hitchcock who has cared for me for getting me to a place where I can wake up each day. My specialists know my name and my story and of course they all talk with each other about my care. I am grateful to all of my care providers—some of them, like Dr. Chobanian, have been taking care of me for 20 years. I especially want to thank Dr. [Brooke] Herndon who has been my primary care provider for the last 15 years. I don't know how she does it but she organizes it all. I have 13 specialists who care for me and Dr. Herndon keeps everyone aware of what is going on, keeping all of us on track to make a plan and involving me in decisions. Best of all, I feel like she sees all of me, not just one health issue. My personal relationship with Dr. Herndon is very strong. I appreciate her and consider her to be a wonderful friend. She knows me better than most people. I can walk into an exam room and she can tell right away—emotionally and physically—where I'm at just by looking at me.
Some people have asked me what keeps me going. A very positive attitude. I see a lot of sadness in the faces of other patients—people feeling badly for themselves. Some people dread the next day. I understand. You are taking all kinds of medications. You have to make choices of the things you can and can't do based on how you are feeling. For me, if I'm given another day I make the most of it.  When I can be up and around I am. If I don't feel like I can do much on a given day my pets stay with me. Often my dog licks my face as I lay on the couch to entice me to take him for a walk. Best of all, I am still able to continue my passion—teaching children how to care for and ride horses. I clean my horses' stalls and care for my other pets as well. I don't allow my health conditions to hold me back. Each day is a gift. I am lucky to be alive.