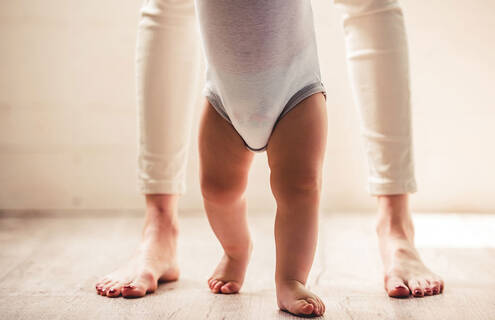 Have you heard of the "baby blues?" Feeling sad or anxious before or after having a baby is common; 1 in 5 people in New Hampshire have depression during or after pregnancy. And more than half of pregnancy-related deaths are linked to suicide or drug overdose. But there are ways we can all make a difference—including noticing the signs of depression, helping with the baby and sharing resources at Dartmouth Health, in the community and through national organizations.
"I'm always assessing for mental health risks when I meet with patients," says Beatrice Ngugi, MSW, PMH-C, Obstetrics and Gynecology, Dartmouth Health. "I try to normalize that this happens so patients are not ashamed. I also encourage them to make a post-pregnancy plan with family and friends for support once the baby arrives."
The baby blues have mild symptoms that usually happen during the first 2 weeks after a baby's birth. But a perinatal mood or anxiety disorder can happen during pregnancy—and through the first year after the baby is born. These symptoms are more serious.
Some signs you, or someone you care about, should look out for include:
Having a hard time getting out of bed.
Not enjoying the activities that used to bring joy.
Emotional changes.
Behavioral changes.
Inability to sleep or sleeping too much.
Having thoughts of being better off dead or of your family being better off without you.
Why this happens
"Pregnancy itself is not particularly a time that causes anxiety or depression—but people who already experience anxiety or depression before becoming pregnant are at a higher risk, especially if they stop taking psychiatric medications without speaking to their provider first," explains Julia Frew, MD, assistant professor of Psychiatry, OB/GYN and Medical Education; vice chair of Education, Department of Psychiatry, Geisel School of Medicine/Dartmouth Health. "It's best to call your obstetrician (OB), nurse midwife or primary care provider (PCP) to discuss whether it may be best to continue  or taper off medication based on your personal history."
Frew says certain changes that come with having a baby can also increase the risk of a perinatal mood and anxiety disorder. They can happen within the first 4 weeks after giving birth or up until 12 months after, and include:
Hormonal changes.
Lifestyle changes, including being home on maternity leave when being used to working.
Trying to do everything in the home oneself, including caring for other children.
Extreme lack of sleep.
Family members and friends can help by creating a plan that includes:
Making sure mom gets 4 hours of uninterrupted sleep.
Taking care of diapering at feeding time.
Being a call away in the middle of the night.
Setting limits for visits.
Making and delivering meals (especially the first 2 weeks postpartum).
Encouraging self-care.
Offering resources, including local parenting groups.
Knowing the Suicide & Crisis Lifeline: call or text 988.
Sharing the Maternal Mental Health Hotline: 1-833-TLC-MAMA (1-833-852-6262).
There is help
The Maternal Mental Health Leadership Alliance says 75% of people don't get the mental health care they need after giving birth. But there are many resources ready to help if you notice signs of the baby blues in yourself or another person.
Along with the following options, Frew encourages new parents to reach out to their OB, nurse midwife or PCP. "If symptoms develop, there are safe and effective treatments for pregnant and breastfeeding people," she says.
Dartmouth Health
We're here to help! To see a provider Monday-Friday, 8 am to 5 pm, call 603-653-9300. After hours, call 603-650-5000 and ask for the OB provider on call; or go to the closest Emergency Room.
Women's Health Resource Center, The 4th Trimester: New Mother Support Group, Thursdays, 11 am. Make friends, share and have questions answered about nursing and other baby care issues. Partners are welcome.
Women's Health Resource Center, Virtual 4th Trimester Group, Wednesdays, 10 am. Pre-register at 603-650-2600.
Local parenting resources
Local pregnancy loss support
National/international resources
For more information, visit our OB/GYN: Obstetrics, Gynecology, and Nurse Midwifery website.