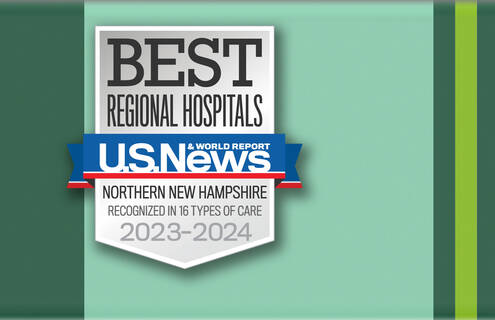 Dartmouth Hitchcock Medical Center (DHMC), the flagship academic medical center of Dartmouth Health, has once again been recognized by U.S. News & World Report as New Hampshire's Best Hospital in the U.S. News Best Hospitals 2023-24 rankings, which were released this week.
"Everyone working in healthcare has faced tremendous challenges in the last few years. Our teams at DHMC have been no exception," said Susan A. Reeves, EdD, RN, CENP, executive vice president of DHMC. "Despite the many hurdles, our teams continue to deliver world-class care day in and day out, and their commitment to our patients has never wavered. I'm tremendously proud that our hospital has once again been recognized as the Granite State's best, and this honor would not be possible without all of our staff—clinical, operational, administrative and many more."
DHMC was also recognized as "high performing" in the adult specialty of cancer, as well as in 15 common adult procedures and conditions, including:
Abdominal aortic aneurysm repair
Aortic valve surgery
Back surgery (spinal fusion)
Colon cancer surgery
Heart attack
Heart bypass surgery
Heart failure
Hip replacement
Knee replacement
Leukemia, lymphoma and myeloma
Lung cancer surgery
Ovarian cancer surgery
Prostate cancer surgery
Stroke
Uterine cancer surgery
Two other Dartmouth Health members were also recognized in several areas. Alice Peck Day Memorial Hospital was recognized by U.S. News as high-performing in hip replacement, and Cheshire Medical Center was recognized as high-performing in chronic obstructive pulmonary disease (COPD) and pneumonia care.
The annual Best Hospitals rankings and ratings, now in their 34th year, are designed to assist patients and their doctors in making informed decisions about where to receive care for challenging health conditions or for common elective procedures. To compile the annual list, U.S. News & World Report evaluates hospital performance in 15 adult specialties, 10 pediatric specialties and 17 surgical procedures and medical conditions in more than 5,000 medical centers nationwide. The methodologies behind the rankings in most areas of care are based largely or entirely on objective measures such as risk-adjusted survival and readmission rates, volume, patient experience, patient safety and quality of nursing, among other care-related indicators. For more information, visit the U.S. News & World Report FAQ: How and Why We Rank and Rate Hospitals website.
About Dartmouth Health
Dartmouth Health, New Hampshire's only academic health system and the state's largest private employer, serves patients across northern New England. Dartmouth Health provides access to more than 2,000 providers in almost every area of medicine, delivering care at its flagship hospital, Dartmouth Hitchcock Medical Center (DHMC) in Lebanon, NH, as well as across its wide network of hospitals, clinics and care facilities. DHMC is consistently named the #1 hospital in New Hampshire by U.S. News & World Report, and recognized for high performance in numerous clinical specialties and procedures. Dartmouth Health includes Dartmouth Cancer Center, one of only 54 National Cancer Institute-designated Comprehensive Cancer Centers in the nation, and the only such center in northern New England; Dartmouth Health Children's, which includes Children's Hospital at Dartmouth Hitchcock Medical Center, the state's only children's hospital, and multiple clinic locations around the region; member hospitals in Lebanon, Keene and New London, NH, and Bennington and Windsor, VT; Visiting Nurse and Hospice for Vermont and New Hampshire; and more than 24 clinics that provide ambulatory services across New Hampshire and Vermont. Through its historical partnership with Dartmouth and the Geisel School of Medicine, Dartmouth Health trains nearly 400 medical residents and fellows annually, and performs cutting-edge research and clinical trials recognized across the globe with Geisel and the White River Junction VA Medical Center in White River Junction, VT. Dartmouth Health and its more than 13,000 employees are deeply committed to serving the healthcare needs of everyone in our communities, and to providing each of our patients with exceptional, personal care.