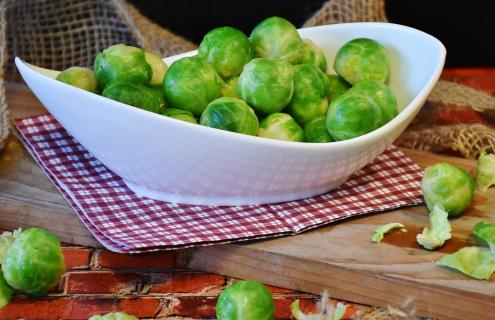 Protein helps slow down digestion, keeps you feeling fuller and satisfied for longer while quelling cravings, and regulates blood sugar levels.
Elise B. Cushman, RD
When it comes to fruit and veggie intake, most Americans don't get the recommended five a day. For cancer patients and the general population, the American Cancer Society and American Institute for Cancer Research (AICR) recommend increasing fruits, vegetables and fiber in the diet. I like to sneak vegetables into everything—you can ask any member of my family and they will agree. For patients who are undergoing chemotherapy and other cancer treatments, getting in the recommended fruits, veggies and fiber can be especially challenging when taste is an issue or when you are not feeling well and don't have an appetite.
To pack the biggest nutritional punch in the recipes we're preparing here, I've incorporated protein into our soup and sweet treat, which is also full of fiber and offers good calories. The salad uses one of my favorite vegetables and is also very versatile.
Chicken and rice soup
Soups are simple and tasty. It's also easier to make soup in big batches than small ones, so use a large pot or slow cooker! I like to make a lot and then freeze some in smaller portions that can be thawed any time as individual servings. This chicken, winter squash and rice soup is hearty one!
Winter squashes such as butternut squash will often come pre-chopped. This is a great alternative to a whole squash that can be intimidating or too much for one or two people. You can freeze raw or roasted chopped squash and pull some out any time you need a vegetable for soups to go with a meal. Butternut squash and carrot peels contain good nutrients and fiber so I don't even peel these.
Parsnips are also wonderful roasted. They're pretty neutral in flavor so I like to sneak them into mashed potatoes. And if I'm doing a stew you can bet there's a parsnip or two in there.
The rougher you are with garlic, the nicer it is with you. When crushed or chopped, garlic becomes more flavorful and produces a compound called allicin that has been found to reduce inflammation and provide cancer-fighting antioxidant benefits.
Cooking Tips:
I keep a gallon-sized zipper bag in my freezer and fill it with onion peels, vegetable scraps, chicken bones and squeezed lemon peels. When the freezer bag gets full, I know it's time to make chicken stock. I empty the contents into a slow cooker with water, simmer on high for two days and then strain it. I keep a pint in the fridge and freeze the rest in portions.
Any recipe that calls for wine, beer, stock or broth, you can always use water instead.
To easily measure uniformly sized truffles, use a 1-tablesepoon ice cream scoop with a hinge.
I use boneless, skinless chicken thighs in this recipe, but you can use a rotisserie chicken or leftover Thanksgiving turkey. Protein helps slow down digestion, keeps you feeling fuller and satisfied for longer while quelling cravings, and regulates blood sugar levels.
Animal proteins pack the highest protein punch. The recommendation is at least 0.8 grams of protein per kg of body weight. That means a 150-pound person needs at least 54 grams of protein per day. For reference, 3 oz of beef, chicken or other animal protein contains about 24 grams of protein. People actively in cancer treatment will have higher protein needs. Dietitians at the cancer center can help you find ways to make sure you're meeting your individual caloric and protein needs as simply as possible.
Recipe: Chicken (or Turkey) Wild Rice Soup
Source: Elise Cushman
Serves: 4-6
Prep min 15
Cook min: 1-2 hours
Ingredients:
2 tbl olive oil
2 onions, chopped
3 carrots, chopped
2-3 parsnips, chopped
4 stalks of celery, chopped
2 cups sliced mushrooms (about 4 ounces)
2 cups of winter squash, chopped
6 cloves garlic, minced
2 lbs of chicken or turkey, chopped and cooked
1 tsp dried thyme
1 tsp dried parsley
1 tsp dried rosemary
1 bay leaf
2 cups wild rice, cooked* or 1 cup uncooked**
2 quarts of chicken broth
Salt and pepper to taste
Parsley or chives to garnish
Instructions:
In a heavy bottom pot, sauté onions until translucent. Add carrots, parsnips, celery, winter squash, mushrooms, and garlic. Sautee for another 5-7 minutes.
Add chopped chicken, dry spices and wild rice.
Add broth and cooked rice. Allow to cook for 50 minutes or until rice is done, if it is uncooked. If rice isn't pre-cooked, add during step 2, but you will need to increase broth or add 3-4 cups of water.
Season to taste and garnish, if desired.
*Wild rice comes in quick cooking or instant wild rice and takes considerably less time to cook (up to 30 minutes, but look at the package as cooking time can vary). Conventional wild rice takes 40-50 minutes to cook. The ratio of liquid to wild rice is 3 to 1.
Chocolate cherry truffles
A little bit of work goes a long way with this recipe. Chocolate manufacturers offer many percentages of cocoa these days. The closer you get to 100%, the less sweet the chocolate will be. If you're a dark chocolate fan, stick with around 72% cocoa for this recipe. Use a chocolate bar over chips because chips are coated to preserve their shape for cookies. Bars chopped into chunks are easier to melt in the microwave or double boiler. Melted chocolate acts as a binding agent so the truffles hold their shape when rolled.
There is no added sugar in these truffles—the sweetness really comes from the dried fruit. I rough chop cherries, but you can use cranberries, raisins or even candied ginger. It's a great way to cut added sugar intake. The AICR recommends no more than 24 grams (6 teaspoons) of added sugar a day for women and 30 grams a day for men.
Be creative with what you roll your truffles in. Traditionally they are rolled in sugar but you can substitute unsweetened cocoa powder, shredded toasted coconut and cinnamon or even matcha (powdered green tea).
Recipe: Chocolate Cherry Walnut Truffles
Source: Rebecca Katz https://www.rebeccakatz.com/recipe-box/chocolate-cherry-walnut-truffles; Reprinted with permission
Yield: approximately  20 truffles
Prep time: 15 minutes
Cook Time: 2 1/4 hours
Ingredients:
2 tablespoons boiling water
2 ounces dark chocolate (64 to 72% cacao content), very finely chopped
1/2 cup walnuts
1 tablespoon unsweetened cocoa powder
1 cup pitted and halved Medjool dates
1 teaspoon vanilla extract sea salt
1/4 cup finely diced dried cherries
2 tablespoons shredded coconut
1/4 teaspoon curry powder
Instructions:
Stir the boiling water into the chopped chocolate and let it stand for 30 seconds. Using a small whisk, stir until the chocolate is completely melted and glossy.
Coarsely grind the walnuts in a food processor, then add the cocoa powder, dates, vanilla, and 1/8 teaspoon of salt, and process for a minute. Then add the chocolate mixture and process until smooth, another minute. Transfer to a bowl and stir the cherries into the chocolate mixture.
Cover and chill for approximately 2 hours, in the refrigerator or 20 minutes in the freezer until firm. On a plate, mix the coconut, curry powder, and a pinch of salt. Scoop up approximately 2 teaspoons of the chilled chocolate mixture and roll it into a smooth ball between your palms, then roll it in the curried coconuts to coat. Repeat with the remaining mixture, then place the truffles in an airtight container and chill thoroughly before serving.
COOK'S NOTE: If you want to give the truffles a golden hue, toast the coconut in a 300°F oven for 10 to 15 minutes. For a more distinctive taste, add another 1/4 teaspoon of curry powder
Shredded Brussels Sprouts Salad 
This salad is one of my go-to staples. I eat kale basically until the snow covers it in my garden and I can't pick it anymore. If shredding brussels sprouts is too much work, you can buy them pre-shredded in the produce department.
You can also substitute green and red cabbage, broccoli slaw or more tender greens like spinach or baby greens if you're not a kale or brussels sprouts fan. But the sweetness of the dried fruit and apples and tartness of the lemon take away some of the bitterness of the kale and brussels sprouts. It's a great marrying of flavors.
If you opt for more tender greens, add the dressing just before serving to avoid the greens wilting. The hardier greens like cabbage brussels sprouts and kale can hold up to pre-mixing just fine, so you can make a large salad and eat it all week. You can also be creative with add-ins such as goat cheese and pumpkin seeds.
Recipe: Brussels Sprout Apple Salad with Cranberries and Walnuts

Inspired by https://www.aicr.org/cancer-prevention/recipes/brussels-sprout-slaw-with-cranberries-and-walnuts/
Serves: 8
Ingredients:
1 pound  Brussels sprouts, kale, or cabbage, about 7 cups in all
1 apple
1/3 -1/2 cup dried cranberries
1/2 cup chopped walnuts
1/2 teaspoon kosher salt
1/8 teaspoon ground pepper
1/3 cup lemon juice
1 tablespoon extra-virgin olive oil
Instructions:
Trim bottom from sprouts and remove any loose or bruised leaves. Place shredding disc or fine slicing disc in food processor, and using feeder tube, gradually shred Brussels sprouts; there will be about 4 1/2 cups. Transfer shredded sprouts to mixing bowl.
Add apple, cranberries, walnuts, salt, pepper and lemon juice and stir with a fork to combine. Add oil and stir well. Cover and refrigerate slaw for 1-3 hours or overnight for flavors to marinate. Re-stir before serving.
Nutrition facts (per serving): 115 calories, 6 g fat, 13 g carbohydrates, 3 g protein, 3 g fiber, 86 mg sodium
More information
To register to watch live future cooking demos by NCCC Dietitians and ask questions, please contact Patient & Family Support Services at CancerSupport@hitchcock.org or (603) 650-7751.