By

Heather E. Wolfe, MPH, RDN, LD, NBC-HWC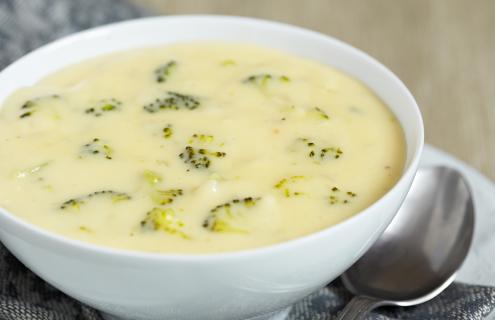 Fresh and full of fiber, this soup gets its creaminess by using pureed white beans to replace the traditional cream, thereby slashing the fat. Cheddar cheese adds some saturated fat, so start with the lower recommended amount, and add more if desired. Since sodium is often high in many soups, instead of using 100 percent broth, this recipe calls for a half water/half broth mix. You can adjust the amount of salt to taste. Remember, salt is an acquired taste, so we can train our taste buds to enjoy reduced salt versions in recipes. You can easily double this recipe if you are serving a larger crowd or to use for leftovers.
Ingredients:
1 tablespoon olive oil

1 onion, diced

1 pound broccoli, chopped (about 4 cups)

1 clove garlic, minced

1 cup water

1 cup vegetable broth

1 (15-ounce) can white beans, rinsed and drained

½ -1 cup shredded cheddar cheese (optional)

Salt and pepper, to taste (try ¼ teaspoon of each)
Instructions:
In a Dutch oven or soup pot, heat oil over medium heat. Add onion and broccoli. Sauté for about 8 minutes, until tender (but not browning).

Stir in garlic and continue to cook another minute.

Add in water, broth and beans. Use a blender or food processor to puree the soup.

You can use a stick blender directly in the soup pot.

Alternatively puree soup using a countertop blender or food processor, removing the center vent and placing a towel over it to allow heat to escape but prevent hot splatters.

Return pureed soup to the soup pot.

Bring pureed soup to a boil, simmering for about 10 minutes.

Stir in salt, pepper and ½ cup cheddar cheese if using. Taste. Add more salt, pepper and cheese based on your taste preferences.

If desired, you can drizzle a bit of extra virgin olive oil on top as garnish prior to serving.
Heather's Healthy Hints: Make up a batch and freeze for quick grab-and-go energy.
Nutrition facts per serving (using ½ cup cheddar cheese, ¼ tsp salt):
Calories 200, Total Fat 8.5g, Saturated Fat 3.5g, Carbohydrate 23.5g, Fiber 7 g, Protein 11.5g, Sodium 290mg
Find more recipes and healthy eating tips in the Cooking Up Health section of D-H Health and Wellness News.
Heather Wolfe, MPH, RDN, LD, CHC, is a registered dietitian and certified health coach with Dartmouth-Hitchcock's Live Well/Work Well Employee Wellness Program.