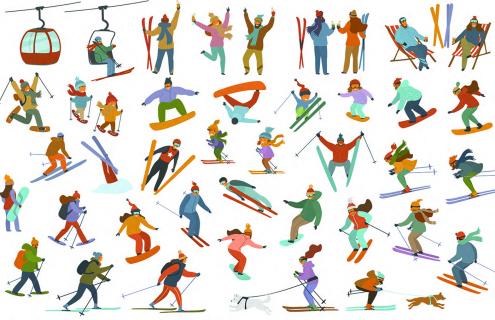 With the winter season in full swing, the regional slopes are busy with skiers and snowboarders of all experience levels. For those new to winter sports, preparing with some simple strength training and stretching exercises will help improve safety and maximize fun.
The most common ski injuries are knee ligament sprains, mainly ACL (anterior cruciate ligament) ones, while snowboarders experience upper body injuries more often. These injuries frequently happen due to technique errors and accidents, but Jason M. Godsell, PT, DPT, CSCS, clinical supervisor in Physical Therapy at Dartmouth Hitchcock Clinics Heater Road, credits some simple training exercises with lowering the risk of injuries and increasing the fun of winter sports.
Godsell recommends a simple strength training regimen that can be done two to three times weekly leading up to ski and snowboard trips—or to incorporate all year long—to strengthen core muscles, build endurance and prevent fatigue on the slopes. Doing two or three sets of 15 to 20 repetitions of squats, deadlifts, lunges and step-ups (see demonstrations below) each session will help achieve these goals.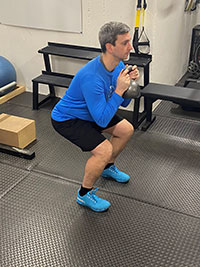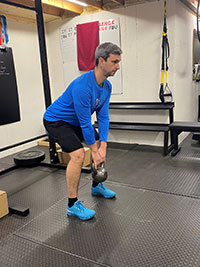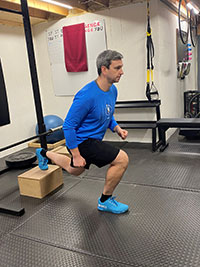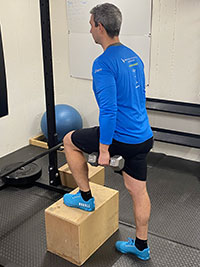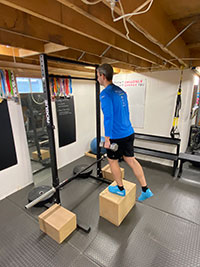 Adding weights or resistance to the exercises, once comfortable, will progress strength. Balance training using an unstable surface like a balance board is also helpful to improve muscle movement and control. Multi-planar movements including forward, side and reverse lunges can further enhance the routine.
Get those stretches in
Along with prepping at home, Godsell encourages winter sports participants to spend a few minutes warming up in their gear before taking that first run. Simply doing standing stretches of the hamstrings, quadriceps and hip flexor muscle groups for 20 to 30 seconds (see demonstrations below), two times each, will help make the time more enjoyable.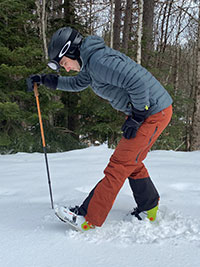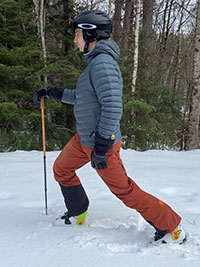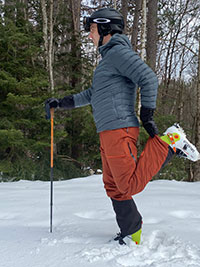 "The goal isn't to be as flexible as a gymnast or a dancer. The goal is to be prepared for the activity," he explains. "If ski lift lines are long, use the time to stretch. It will lower stress and anxiety and make you more comfortable when trying something new."
Another best practice is to take a few easier runs on the beginner slopes to warm up before trying more challenging trails. Using safety equipment is a must—including helmets, and in addition, wrist guards for snowboarders.
To learn about physical therapy, visit www.dartmouth-hitchcock.org/rehabilitation/physical-therapy.