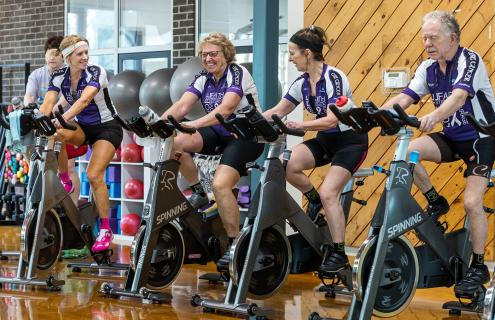 We start together, and we finish together.
Vicki Cutone
Ten years ago, spin-a-thons and 100-mile bike rides weren't part of Vicki Cutone's routine. Then again, neither was cancer. In the summer of 2014, Vicki noticed a small, "wobbly" lump on her left thigh. She wasn't too worried at first, but when it grew, she and her husband decided it was time to see a doctor.
After a concerning ultrasound, a biopsy revealed that Vicki had Leiomyosarcoma (LMS), a rare sarcoma cancer (cancer of the soft tissue) that can be aggressive if not found in time. LMS accounts for only 1% of cancer diagnoses. "What really scared me was knowing it could move to my lungs," Vicki recalls.
Vicki was referred to Dartmouth Cancer Center. Her team of doctors, Thomas H. Davis, MD, an oncologist, Alan C. Hartford, MD, a radiation oncologist, and Eric R. Henderson, MD, an orthopaedic oncology surgeon, recommended radiation treatments to shrink the tumor, followed by surgery to remove it. Vicki had her concerns, but her doctors' positive attitudes gave her hope. "They made me feel comfortable. They said, 'Vicki, we'll take care of this. We're going to do the best we can, and if one way doesn't work, we'll find another way and keep trying,'" she says.
After 25 radiation treatments, Vicki had surgery. In the months that followed, she experienced numbness and discomfort in her legs. Her boss, a part-time spin instructor, suggested Vicki try a spinning (stationary cycling) class to get the blood moving through her legs. This small suggestion led to big successes for Vicki.
"I didn't think I was going to make it through that first class, and my instructor didn't think I would come back. But when I was done, I got into my car and told myself—this bike is not going to get me. I'm going for it," says Vicki. She's been spinning ever since.
And not just within the walls of her gym, Always Fit Athletic Club, in Woodsville, New Hampshire. After months of classes, her spinning mates, who'd become an extended family, proposed that Vicki take her newfound passion on the road and participate in the cycling segment of The Prouty, Dartmouth Cancer Center's biggest annual fundraising event. Vicki was hesitant to hit the pavement but willing to take on the challenge. She purchased a road bike and started with short rides. She worked up to her first 50-mile Prouty ride and eventually finished the 100-mile route. Cycling alongside her, her Prouty team included her classmates, boss, husband, son and Dr. Henderson. "We start together, and we finish together," says Vicki, whose grandchildren cheer for her along the route.
I know I can do a lot more now, and I have a great attitude toward life.
Grateful for the care she received, Vicki wanted to give back. Since spinning was an instrumental part of her recovery, she had an idea to host a spin-a-thon fundraiser. She reached out to Henderson to find out where to start, and he put her in touch with the Friends of Dartmouth Cancer Center events fundraising team. After 5 years cancer-free, Vicki held her first spin-a-thon in February 2019 at the Carter Community Building Association (CCBA) recreation center in Lebanon, New Hampshire.
Vicki asked Henderson how the funds raised could help LMS patients. "We had long talks about what would be meaningful to her," says Henderson. "She wanted to bring people together to both educate and raise awareness." That led Henderson to suggest the idea of a lectureship, where specialists and researchers could come together to learn more about this rare form of cancer. They named it the "Cutone Distinguished Lecture in Sarcoma." Through the spin-a-thon fundraiser, Vicki has raised more than $5,000 for the lectureship.
Vicki has also participated in some of Henderson's lectures at Geisel School of Medicine at Dartmouth, where future physicians get to ask about her story. "She humanizes the experience of studying cancer for them," adds Henderson.
"I remind them to make their patients comfortable by always having a positive, can-do attitude," says Vicki.
"She is extraordinarily kind," says Henderson of Vicki. "She is determined and has done a phenomenal job at beating this."
Vicki, now 9 years cancer-free, once considered herself quiet and shy. "Not anymore," she says. Living through cancer and giving back has made her stronger and more confident. "I know I can do a lot more now, and I have a great attitude toward life." Her advice to others: "Count your blessings every day, keep your head up and always be positive. Keep going, no matter what."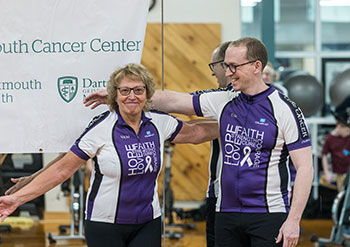 On February 19, 2023, 20 spinners checked their bike gears, sipped water and warmed up their legs in preparation for the Sunday morning pedaling event. Vicki welcomed and thanked the crowd, inspiring them to "ride hard" beside her to bring awareness to this rare cancer. She introduced Henderson, who has become like a brother to her as part of her medical, Prouty and spin-a-thon team. "This is my surgeon. He's my hero," she said.
"This is Vicki's day," replied Henderson. "This is all her doing, and she is my hero."
If you would like to participate, you can make a donation to support the "Cutone Distinguished Lecture in Sarcoma." Be sure to add Vicki Cutone in the "Honoree" field.