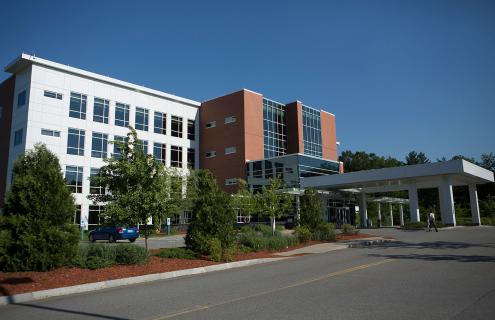 Dartmouth-Hitchcock Nashua
2300 Southwood Drive Nashua, NH 03063
Services
Comprehensive resource for injuries, illness, and everyday health care for the Nashua, New Hampshire area.
Quality and convenient health care services at our main office in Nashua, and our satellite locations in Hudson, Merrimack, and Milford.
Close relationships with Southern New Hampshire Medical Center (SNHMC) and St. Joseph Hospital, where Dartmouth-Hitchcock providers serve on the medical staff.
Includes Norris Cotton Cancer Center, one of only 51 NCI-designated Comprehensive Cancer Centers in the nation, and the CHaD (Children's Hospital at Dartmouth-Hitchcock).
Office hours
Monday through Friday
8:00 am to 5:00 pm
Urgent appointments
Monday through Friday
8:00 am to 8:00 pm
Saturday and Sunday
8:00 am to 2:00 pm
Lab hours
Monday through Friday
8:00 am to 8:00 pm
Saturday and Sunday
8:00 am to 2:00 pm
---
Hudson Family Medicine

Hudson Family Medicine
208 Robinson Road Hudson, NH 03051
Office hours
Monday through Friday
8:00 am to 5:00 pm
---
Merrimack Family Medicine

Merrimack Family Medicine
294 Daniel Webster Highway Merrimack, NH 03054
Office hours
Monday through Friday
8:00 am to 5:00 pm
---
Milford Family Medicine

Milford Family Medicine
14 Armory Road Milford, NH 03055
Office hours
Monday through Friday
8:00 am to 5:00 pm