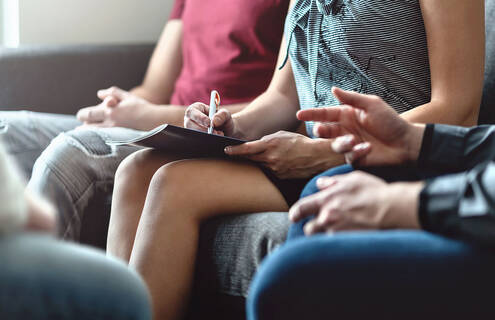 The official end of the COVID-19 national public health emergency ended on May 11, 2023. And while many of us are ready to look at the last 3 years in the rear-view mirror, some don't have that option. The long-term effects of some COVID-19 patients are still lingering, and the end of their road is unknown.
At our Post-Acute COVID Syndrome (PACS) Clinic at Dartmouth Hitchcock Medical Center, Long COVID patients have found more than medical support as they deal with the unique variety of symptoms COVID-19 has left them with.
Charlotte Hultquist was diagnosed with COVID-19 when the blood she donated showed the presence of COVID-19 antibodies. The news was actually a relief for her. After multiple false negative COVID-19 tests, she felt validated because she knew her body was telling her something wasn't right. But it was just the beginning of a string of subsequent COVID-19 reinfections and unusual symptoms.
Grit
by Charlotte Hultquist
There's a strength 
that only grows
in those
who are buried
and dig their way out. 
You know the darkness
grimmer than night
haze and fog
when you're buried
but dig your way out. 
You know the whisper
enticing and clear
"No escape
when you're buried,"
but dig your way out. 
You know a burden
of leaden shadows
that oppress
when you're buried,
but dig your way out. 
You know the delight
of emancipation
sigh and stretch
you were buried,
but dug your way out. 
As one of the early people to present with Long COVID, Charlotte was invited to participate in a virtual facilitated peer support group and a virtual creative writing 5-week program. These opportunities were part of Levy Incubator project funding to assist in researching Long COVID and designing a care delivery model for it.
The facilitated peer support groups helped people diagnosed with Long COVID feel less alone and provided medical professionals an opportunity to listen and learn from their stories. In the tradition of patient-centered care, their voices became an essential part of what helped researchers and clinicians learn about, treat and better support this new illness. That's the benefit of having an academic medical center in our backyard.
It's easy to get caught up in thinking of an academic medical system in terms of big concepts like­­—state-of-the-art equipment, life-changing medications or groundbreaking procedures. And, of course, those are big deals. But sometimes, research can show us that actions as simple as dedicating time and space for listening to patient experiences can be just as profound. It can lead us to an insightful poem that speaks to patient experience, perseverance and "grit."
Charlotte has loved writing since she was little. Her participation in the patient support programs and work on the Levy project as a patient champion led to the following poem, "Grit," which has touched the hearts of her peers with Long COVID and the clinicians and researchers who were there to listen. Charlotte's poem will soon be published in a collection of her poetry.