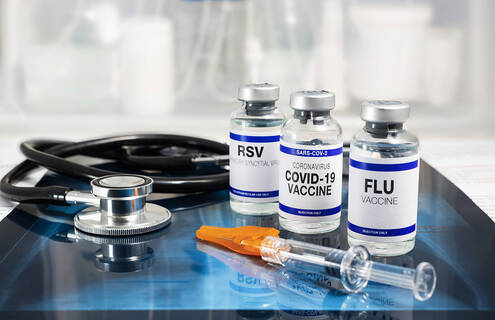 With all the information published about vaccinations for flu, COVID-19, and RSV, many of you may be overwhelmed and wondering how to navigate and stay healthy this fall and winter.
We've put together some information to help you stay up to date on the latest vaccination developments.
Flu vaccinations
The Centers for Disease Control and Prevention (CDC) recommends annual vaccination against influenza for all persons aged six months and older, including all adults.
Dartmouth Health is hosting flu vaccination clinics in multiple locations from September through November. View our Flu Vaccination Clinic page to check schedules and to get more information. You can also schedule flu vaccination appointments through your myDH account.
COVID-19 vaccinations and boosters
The FDA has approved a new COVID-19 vaccine that will more closely target circulating variants and provide you with better protection against COVID-19.
Supplies of this new vaccine are very limited. Many Dartmouth Health locations will be offering the updated COVID-19 vaccine late in October. For more information, refer to our COVID-19 Vaccines, Testing, and Treatments page.
Watch a video of Michael Calderwood, MD, MPH, providing an overview of the current state of COVID-19 in our communities and the updated COVID-19 vaccines.
RSV
RSV (Respiratory Syncytial Virus) is a common virus that affects the airways and lungs. The virus causes mild illness in most children and adults, causing cold-like symptoms and possibly some wheezing and coughing. RSV can cause serious infection in infants, pregnant women, and older adults who are at higher risk for serious disease. This year, vaccines are available for adults, and preventive therapies are available for infants.
Dartmouth Health will be offering the new RSV vaccine in mid-late October. We will update our websites as soon as it is available. Please refer to our Respiratory Syncytial Virus (RSV) page (for adults) and our RSV (Respiratory Syncytial Virus) Information page (for children).
You can also refer to the CDC website for more information about the RSV vaccination for infants, pregnant women, and adults over 60.
We'll continue to provide information to help you and your family stay healthy so you can enjoy this fall and winter season.