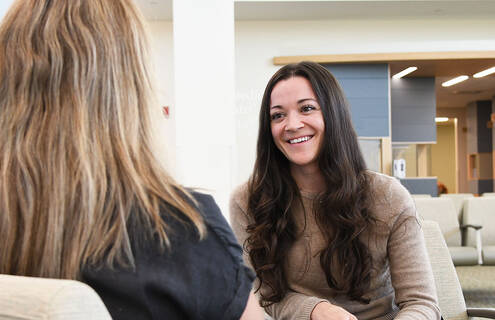 "A cancer diagnosis is scary, but I want patients to feel that they can talk with me and be heard," says Kimberly G. Ellis, MD, a fellowship-trained breast surgeon who recently joined Dartmouth Hitchcock Clinics Manchester. "I am here to help them through a tough time in their lives."
She says there are steps you can take to lower your risk of breast cancer. Following these proven guidelines can reduce breast cancer risk for women by 40%:
Exercise for 30 minutes, 5 days per week.

Eat a healthy diet.

Maintain a healthy weight.

Keep alcohol intake low—no more than 4 drinks per week.

Don't smoke.
It's also important to have regular mammogram screenings. Medical societies generally agree that these should begin at age 40. But your personal risk of breast cancer is based on family history, genetics and overall health. Your primary care provider (PCP) is the best person to talk with about these risks and will help guide you.
Remember to include breast self-exams in your personal wellness routine (ask your PCP how!).
When it's cancer—what happens next?
Ellis is often the first medical provider to meet with patients after a breast cancer diagnosis, informed by a mammogram showing abnormal results.
"I explain what breast cancer is and how we're going to deal with it," she shares. "I spend at least an hour with them talking, finding out what is happening in their lives and what the next year will be like."
Ellis treats breast cancer and benign breast conditions with surgery. She is the only surgeon in New Hampshire who performs delayed sentinel lymph node biopsies. These procedures protect lymph nodes that don't need to be removed right away (or maybe not at all)—pushing out surgery and eliminating the risk of lymphedema (arm swelling).
A patient-focused team effort
Ellis works closely with her team members at Dartmouth Cancer Center's Comprehensive Breast Program to create the most effective care plan for her patients—which doesn't always include surgery.
This multidisciplinary team supports patients diagnosed with cancerous or non-cancerous breast conditions. Available treatments include:
Breast-conserving surgeries.

Chemotherapy or radiation.

Genetic testing.

Plastic surgery.
Ellis is focused on delivering a seamless treatment experience for patients in southern New Hampshire. This includes wellness resources to ensure the best possible care outcomes.
"I'm excited to be in a community where I can empower patients to live the healthiest lives they can," she says.

If you have questions about breast health and would like more information, visit www.dartmouth-hitchcock.org/breast-health.
 
Medical information has been reviewed by Kimberly G. Ellis, MD.