By

Heather E. Wolfe, MPH, RDN, LD, NBC-HWC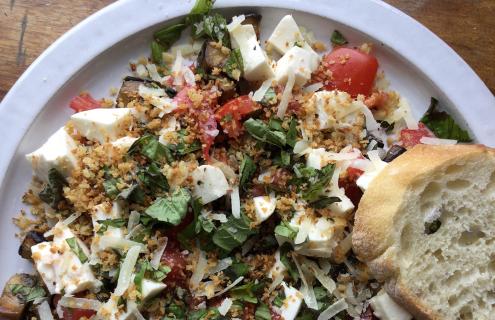 Traditional eggplant parmesan can be calorically dense, as breaded eggplant absorbs oil like a sponge. This recipe uses less oil and breadcrumbs. Rather than the eggplant being individually breaded, a sprinkling of toasted breadcrumbs over the top of sautéed eggplant delivers that same crispy crunch with each bite but far fewer calories. Using fresh tomatoes in place of sauce and keeping cheese in moderation lowers the sodium.
Makes: 4 servings
Ingredients
2 tablespoons olive oil, divided

1 medium eggplant, diced (no need to peel unless you prefer to) 1 teaspoon garlic powder

¼ teaspoon salt, plus a pinch, divided

¼ teaspoon fresh ground black pepper

¼ cup panko style breadcrumbs, whole wheat if available

1 teaspoon dried basil

1 teaspoon dried oregano

¼ teaspoon red pepper flakes, optional 4 ounces fresh mozzarella cheese, diced 1─2 cups tomatoes, diced

¼ cup Parmesan cheese, grated or shredded

2 tablespoons fresh basil, chopped
 Serving suggestion: cooked pasta, crusty bread
Instructions
In a large skillet, heat 1 tablespoon of olive oil over medium heat.

Add eggplant, garlic powder, 1/4 teaspoon salt and pepper. Sauté for 10 minutes, until tender and browning. Stir often to prevent the eggplant from sticking to the pan.

Remove eggplant from skillet.

In the now empty skillet, add the remaining 1 tablespoon of olive oil. Heat over medium heat.

Stir in panko breadcrumbs, dried basil, oregano, red pepper flakes, if desired, and a pinch of salt. Cook, stirring often, until lightly toasted, about 1 minute.

Remove toasted breadcrumbs from heat.

In the large bowl toss cooked eggplant, mozzarella and tomatoes (range of 1-2 cups tomato based on personal preference).

Sprinkle with toasted breadcrumb mixture and Parmesan cheese evenly over top. Garnish with fresh basil.

Serve this as is, over pasta, as a bruschetta topping, on crispy bread or as a pizza topping. You can even switch from a dice to a slice and make a Caprese style salad. Enjoy the many options for eating!
Nutrition (per serving)
Calories 200, Total Fat 13g, Saturated Fat 5g, Carbohydrate 13g, Fiber 4g, Protein 9g, Sodium 370mg
Find more recipes and healthy eating tips in the Cooking Up Health section of the Health and Wellness newsletter.
Heather Wolfe, MPH, RDN, LD, NBC-HWC, is a registered dietitian and certified health coach with Dartmouth-Hitchcock's Live Well/Work Well Employee Wellness Program.