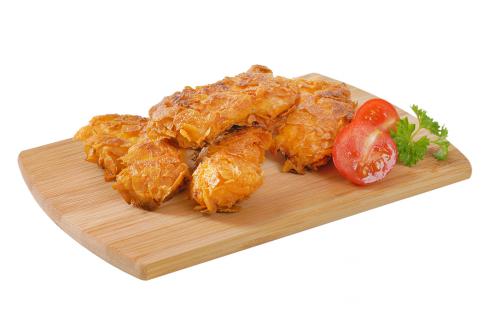 Here's a healthy version of a favorite fast-food item from Dartmouth-Hitchcock's  (D-H's) Culinary Medicine Program.
Servings: 4
Prep time: 15 minutes
Cook time: 15 minutes
Ingredients
1 ½ cups of crushed corn flakes or panko bread crumbs

1 ½ cups of flour

2 tablespoons garlic powder

2 teaspoons oregano or thyme

Salt and pepper

1 ½ cups of milk

1 pound of skinless, boneless chicken breast

4 tablespoons canola oil (may need more)
Preparation
Slice chicken into ¾-inch strips about 3-4 inches long.

Place corn flakes in a zip-lock bag and smash to make bread crumb-sized pieces.

Set out three bowls. Fill one each with: flour, spices, salt and pepper; milk; and crushed corn flakes

Dip chicken pieces into the flour mixture, the milk, and then the corn flakes to coat all sides with crumbs.

Heat oil in a large pan over low-medium heat until hot (looks shimmery but not smoking).

Add chicken pieces, leaving space in between (may require a few batches of cooking). Make sure to wash your hands after handling the chicken pieces.

Cook for 3-4 minutes, flipping until all surfaces appear golden-brown.

Remove from pan and place on a paper towel-lined plate until ready to serve.
Children
Can help measure all ingredients into dishes and bowls.
Add chicken to the flour mixture and help coat the chicken. Make sure they wash their hands after handling the chicken pieces.
Nutrition Information (per serving)
Calories 428, Total fat 19 g, Saturated fat 3 g, Sodium 118 mg, Total carbohydrate 33 g, Dietary fiber 1 g, Total sugar 4 g, Protein 31 g
Download a PDF of this recipe here.
Find more recipes and healthy eating tips in the Cooking Up Health section of D-H Health + Wellness News.