By

Heather E. Wolfe, MPH, RDN, LD, NBC-HWC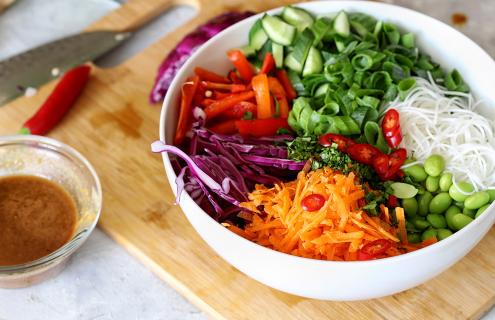 This vegetable-packed bowl is full of a rainbow of colors and plenty of nutrients. The dressing brings Asian flavors to the dish that are common to Thai cuisine. 
Ingredients:
8 ounces brown rice noodles or 1 cup uncooked brown rice

1 bell pepper, red and/or yellow, julienned

1 carrot, julienned

1 cucumber, julienned

2 cups shredded purple cabbage

2 scallions, chopped

1 cup cooked edamame, or other protein of choice

2 tablespoons sesame seeds, optional

8 basil or cilantro leaves, for garnish
Instructions:
Cook rice noodles or brown rice, depending on which you'd like to use as the base of your whole grain bowl. Set aside.

Cut up your veggies (see "

Heather's Healthy Hints" below) and cook your protein of choice.

In a jar with a tight fitting lid (like a clean jam jar) put all dressing ingredients in and shake well until combined. Alternatively, put all ingredients into a small bowl and whisk. Thin the dressing further if desired with additional water, adding 1 tablespoon at a time, until your preferred consistency is achieved. Note: This makes enough to lightly dress the bowl. If you like dressing/sauce, the recommendation is to double the dressing, that way you have plenty of extra to drizzle over the top to taste.

Toss your grain (rice noodles or rice) with the dressing. Divide dressed grain evenly between individual serving bowls. Arrange vegetables in rainbow order around the edge: red, orange, yellow, green and purple. Garnish with sesame seeds and basil or cilantro if desired. Enjoy and be nourished!
Dressing:
¼ cup nut butter, either almond or peanut

2 tablespoons water, for thinning

2 tablespoons reduced sodium soy sauce or tamari

1 tablespoon fresh squeezed lime juice

½ teaspoon minced garlic

½ teaspoon minced ginger

Dash of Sriracha, optional for heat
Nutrition (per serving): Calories 375, Total Fat 15g, Carbohydrate 50g, Protein 15g, Sodium 450mg
Heather's Healthy Hints:
What does "julienned" mean? It is a French culinary term that means to cut into thin strips. You might think of these as "matchstick" cuts.
Find more recipes and healthy eating tips in Cooking Up Health.