By

Heather E. Wolfe, MPH, RDN, LD, NBC-HWC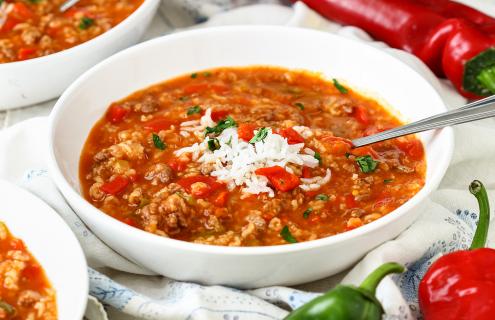 You can make this in an Instant Pot, regular slow cooker or on the stovetop. This simple soup ends up tasting like a mild stuffed pepper.
Serves: 6
Serving Size: 1 1/2 cups
Ingredients
1 cup uncooked brown rice

1 ½ cups water

1 pound lean ground beef or soy crumbles (optional)

1 tablespoon olive oil

1 onion, diced

2 green bell peppers, diced

1 teaspoon salt

1 teaspoon cumin

½ teaspoon paprika

½ teaspoon fresh ground black pepper

4 cloves garlic, minced

1 (28-ounce) can diced tomato

1 (15-ounce) can black beans, drained and rinsed

4 cups low-sodium vegetable broth

Cheddar cheese, optional garnish

Hot sauce, optional for adding spicy heat
Instructions
Add rice and water to Instant Pot. Pressure cook for 20 minutes followed by a 10-minute natural release (note: you can use the rice setting for white or parboiled rice.) For stovetop rice, bring rice and water to a boil in a medium saucepot, cover and simmer gently for 40 minutes. After cooking rice, remove it from its pot and set aside.

Optional step: If using ground beef, brown in the Instant Pot using the sauté function or on the stovetop in a skillet. Drain off any grease. Soy crumbles can be added directly to a slow cooker without browning.

Into the bowl of the Instant Pot, slow cooker or soup pot, add oil, onion, peppers, salt, cumin, paprika, black pepper, garlic, tomato, black beans and broth. Mix in beef or soy crumbles if using.

In the Instant Pot, use the slow cooker function and cook on "normal" (low) for 5 to 6 hours or on "more" (high) for 2½ to 3 hours. If cooking on the stovetop, cover and simmer for 30 minutes.

Mix in cooked rice, and if needed, warm a few more minutes until rice has reheated. Top with shredded cheddar, if desired. Jazz up with some hot sauce, to taste, if you find it's on the mild side.
Heather's Healthy Hints: Work that multi-cooker! Start from dry beans before you launch into this recipe, soak ½ cup black beans overnight (or 8 hours), then pressure cook beans for 6 minutes followed by a natural release. Water should be 1-inch over the top of the beans during both soaking and cooking. Drain off the soaking water and cook in fresh water.
Nutrition facts per serving without optional ingredients: Calories 250, Total Fat 3.5g, Saturated Fat 0.5g, Carbohydrates 45g, Fiber 8g, Protein 8g, Sodium 500mg
Find more family-friendly recipes and healthy eating tips in the Cooking Up Health section of D-H Health + Wellness.
Heather Wolfe, MPH, RDN, LD, CHC, is a registered dietitian and certified health coach with Dartmouth-Hitchcock's Live Well/Work Well Employee Wellness Program.