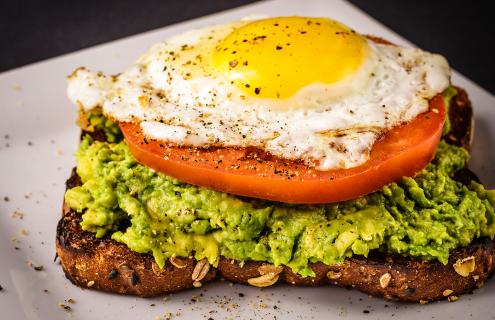 We asked a few of our Dartmouth-Hitchcock (D-H) nutritionists and dietitians and asked them: What do you eat for breakfast?
Jean M. Copeland, RDN, LD, who works in the D-H Heart & Vascular Center as a registered dietitian and nutritionist, eats a heart-healthy chickpea pancake on berries with plain yogurt. "I make about eight pancakes on the weekend so I can eat them over the course of the week. I eat three or four on the weekend, and then one each morning."
Christina L. Aquila, RD, a dietitian with the D-H Weight & Wellness Center, eats a slice of high-fiber whole wheat toast with mashed avocado and sliced tomato, topped with an egg. "I also always start my day with a full glass of water," says Aquila.
Hannah K. Brilling, RDN, a dietitian in the D-H Weight & Wellness Center, who approaches healthy eating with weight management and disease prevention in mind, has been sticking to oatmeal: a mixture of millet and old-fashioned oats, flax seed and chia seeds with milk for added protein. To top it off, Brilling adds chopped nuts, a little maple syrup for sweetness and vanilla extract and cinnamon for flavor. "I usually advise against oatmeal when it's too high in sugar and lacks protein, but this recipe is more balanced," says Brilling. "It's hard to get enough fiber throughout the day, so oatmeal is a great choice when made with enough protein and fat to balance out the carbohydrates."
Heather E. Wolfe, MPH, RDN, LD, CHC, clinical dietitian for the D-H Live Well/Work Well Employee Wellness Program puts a lot of thought into her go-to breakfast drink. "I usually have tea in the morning from herbs I grow in my home garden. My favorite is a blend of tulsi (holy basil), mint, lemon balm, and chamomile. Tulsi is adaptogenic, which means that it restores balances to the body, mint is known for digestive health and lemon balm and chamomile help support the nervous system."
Find more healthy breakfast and other meal recipes on our Cooking Up Health webpage.