By

Dartmouth-Hitchcock's Culinary Medicine Program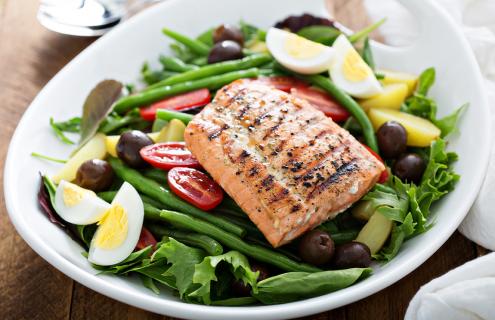 Dartmouth-Hitchcock's Culinary Medicine program shares this salad featuring salmon, Kalamata olives, potatoes, hard-boiled eggs, cherry tomatoes and green beans. Add some of your other favorite veggies, and enjoy!
Servings: 4

Serving size: 1 small plate

Prep Time: 30 minutes

Cook Time: 30 minutes
Ingredients
12 ounces salmon (approximately three quarters

 of a 

pound), cut into 3 ounce portions

1 small/medium head of lettuce or 4 to 6 cups mixed greens

½ pound (8 to 10) green beans, blanched

2 large eggs, boiled, cooled and peeled

8 small potatoes, boiled and cooled

16 black or Kalamata olives (3 to 4 per person)

2 tablespoons olive oil

Optional: 1 avocado, corn, cherry tomatoes, diced cucumber or radish, fresh chopped herbs, etc.
Vinaigrette:
¼ cup olive or canola oil

¼ cup apple cider (or other) vinegar

1 teaspoon honey or maple syrup

1 teaspoon mustard
Directions
Vinaigrette

: Combine all ingredients in a small bowl and mix with a fork or whisk to combine.

Boil potatoes:

Bring pot of salted water to a boil. Add potatoes and cook for 15 to 20 minutes, depending on the size of the potato. Once fork-tender, drain water and set aside to cool.

Boil eggs:

Bring pot of water to a boil. Carefully lower eggs into water, cook for 6 minutes, drain, cool and peel.

Blanch green beans:

Prepare a bowl of iced water. Bring pot of salted water to a boil. Add green beans and cook for 2 minutes. Drain water (or use tongs) and add beans to the ice bath.

Sear salmon:

 Sprinkle fish with salt and pepper. Heat oil on medium heat. Place fish skin side down and cook for 4 to 7 minutes. Flip and cook 3 more minutes until done.

Prepare raw veggies of your choice:

slice cucumbers, radish, olives or avocado. Chop up some herbs for flavor and garnish.

Assemble your salad:

  Add all ingredients, drizzle with vinaigrette and serve.
Nutrition info
Calories 686 Cal | Total Fat 32g | Saturated Fat 5g | Protein 35g | Total Carbohydrates 69 | Dietary Fiber 12g Sugars 6g | Sodium 371mg
Tips from the Dietitian
Salad meals are a great way to go plant forward and make it fun. Let kids pick flavors and ingredients and mix it up. Keep it simple with a few ingredients or get innovative.

Substitute roasted chicken, nuts, beans or legumes (white beans, lentils) for your protein – plant proteins are cheap, healthy and good for the environment.

Add a range of veggies like broccoli, cauliflower, peppers or cucumber or use a new vinegar like balsamic or apple cider.

Switch up potatoes for

a whole grain like left-over brown rice, faro or quinoa.
Find more recipes and healthy eating tips in the Cooking Up Health section of the Health and Wellness eNewsletter.