By

Heather E. Wolfe, MPH, RDN, LD, NBC-HWC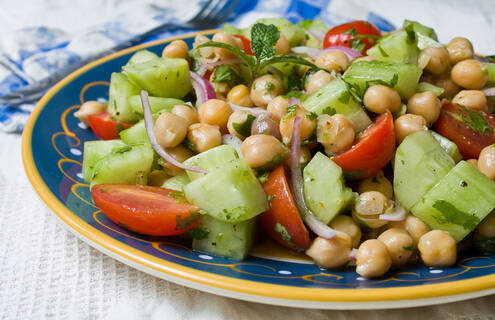 Start with this basic salad recipe and then add ingredients such as Kalamata olives, feta cheese, artichoke hearts or sun-dried tomatoes.
Makes: 4 servings
Size: 1 ¼ cups
Ingredients
1 ½ cups cooked chickpeas (or one 15-ounce can drained, rinsed)
1 cup tomatoes, chopped
1 cucumber, chopped
1 cup celery, chopped
¼ small onion, sliced
½ cup fresh cilantro or parsley, chopped
1 tablespoon extra-virgin olive oil
½ tablespoon balsamic vinegar
½ teaspoon ground cumin
¼ teaspoon paprika
Instructions
Combine and stir all ingredients in a large serving bowl.
Serve immediately or chill.
Nutrition (per serving)
Calories 168, Total fat 4.5g, Saturated fat 0.5g, Carbohydrates 25g, Protein 7g, Fiber 6g, Sodium 48mg
Heather's healthy hints
Depending on what ingredients you have on hand, you can substitute ingredients. Use either red or yellow onions. Use canola oil instead of olive oil. Lemon juice works just as well as balsamic vinegar.
Find more recipes and healthy eating tips in the Cooking Up Health section of our website.
Heather Wolfe, MPH, RDN, LD, NBC-HWC is one of the Lifestyle Improvement Program (Dartmouth Health, Employee Wellness) Health and Wellness Coaches specializing in nutrition.