By

Heather E. Wolfe, MPH, RDN, LD, NBC-HWC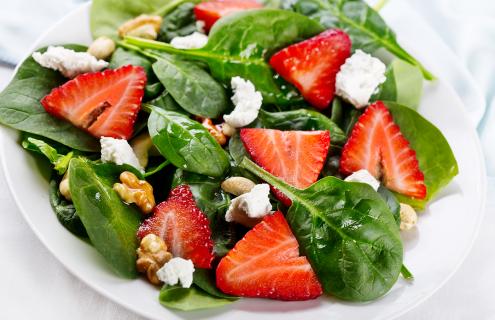 It's the season for fresh spinach and strawberries—a perfect pairing in this beautiful salad. Add some blueberries and feta or goat cheese to make a nutritious salad for July 4th.
You've probably heard the statistic that about 60 percent of our body weight is water. Water is essential for us to survive and thrive. Besides drinking water, eating fruits and vegetables can help you hydrate. Both spinach and strawberries are 92 percent water by weight and blueberries are 85 percent.
Makes: 4 servings   Serving Size: 2 cups
Ingredients
5 cups (5 ounces) baby spinach
2 cups (1 pint) strawberries, sliced 
1 cup blueberries
¼ cup (1 ounce) sliced almonds or walnuts
4 ounces feta or goat cheese, crumbled
4 tablespoons poppy seed dressing or balsamic vinaigrette
To make your own fat-free, creamy poppy seed dressing:
Whisk ¼ cup plain nonfat Greek yogurt, 1 tablespoon vinegar (try white wine vinegar or apple cider vinegar), 2 tablespoons sugar and ½ tablespoon poppy seeds together in a bowl until sugar is completely dissolved.
To make your own balsamic vinaigrette:
In a jar with a tight fitting lid, shake together: ¼ cup extra virgin olive oil, 2 tablespoons balsamic vinegar, 1 tablespoon honey, 1 teaspoon Dijon mustard, 1 ½ tablespoons finely chopped shallot and ⅛ teaspoon each of salt and black pepper.
Instructions
In a large mixing bowl, toss spinach with dressing, coating all the leaves.
Divide spinach between individual serving bowls.
Top with berries, nuts and cheese (if using). Serve extra dressing on the side if desired.
Nutrition (per serving without dressing): Calories 170, Total Fat 10g, Saturated Fat 4.5g, Carbohydrates 14g, Protein 9g, Fiber 5g, Sodium 150mg
Poppy seed dressing, per tablespoon adds: 30 calories, 7g carb, 1g protein, 6mg sodium
Balsamic vinaigrette, per tablespoon adds: 70 calories, 7g fat, 2g carb, 50mg sodium
Find more recipes and healthy eating tips in the Cooking Up Health section of the Health and Wellness newsletter.
Heather Wolfe, MPH, RDN, LD, CHC, is a registered dietitian and certified health coach with Dartmouth-Hitchcock's Live Well/Work Well Employee Wellness Program.